Dear Bolinas-Stinson Families,
EARLY DISMISSAL ON BOTH CAMPUSES ~ PARENT TEACHER CONFERENCES ALL WEEK, NOVEMBER 14-18TH
Parent teacher conferences will be held Monday - Friday this week, November 14-18, 2022
Early Dismissal Stinson Campus at 1:15 PM

Early Dismissal Bolinas Campus at 1:30 PM

Please use the links below to view the conference early dismissal bus schedules

After School Classes will be meeting on the Bolinas Campus directly after the 1:30 Dismissal. Please reach out to Janis Yerington if you have any questions.
If you haven't already reserved your conference time, this is a great opportunity to touch base with your child's teacher! Teachers will be sharing your child's progress towards California state standards and their development of the Characteristics of a Successful Learner on our BSUSD Standards Based Report Card. Teachers will also be sharing more information on your child's social/emotional development, student goals, as well as classroom and state testing results. This is a wonderful time to celebrate your child's progress, any milestones or personal accomplishments, and how to best support them at home.
SUCCESSFUL RUBY BRIDGES WALK TO SCHOOL DAY, MONDAY, NOVEMBER 14, 2022
Thank you to everyone who was able to participate in this fun and educational event! We had a fantastic turn out of parents, students, and staff to celebrate this historic day.
"Ruby Nell Bridges Hall is an American Hero. She was the first African American child to desegregate William Frantz Elementary School. At the tender age of six, Ruby Bridges advanced the cause of civil rights on November 14, 1960 when she became the first African American student to integrate an elementary school in the South." ( Ruby Bridges National Park Service, July 28, 2020. Ruby Bridges, Jean Lafitte National Historical Park and Preserve. Retrieved November 14, 2022, from https://www.nps.gov/people/rubybridges.html.)
The sun was shining as we walked en masse from Mesa Park to the Bolinas-Stinson School this morning to honor Ruby Bridges' courage and work "to end racism one step at a time." ( Ruby Bridges Foundation. Ruby Bridges Walk to School Day, A Call to Action, Ruby's Story, Retrieved November 14, 2022, from http//https://rubybridges.foundation/.)
CONGRATULATIONS TO OUR ART SHOP TEACHERS AND OUR EXEMPLARY VISUAL ARTS PROGRAM!
Our School District was honored to be the recipient of the 2022 Exemplary Visual Arts Program Award at the annual CAEA, California Art Educators Association.
This important award recognizes outstanding public school visual arts programs at the State level. Our school's visual arts program was specifically distinguished for the use of interdisciplinary integration and collaboration with local community resources, such as the Bolinas Museum Educational Partnership, local branches of the Marin County Free Library, and local artists.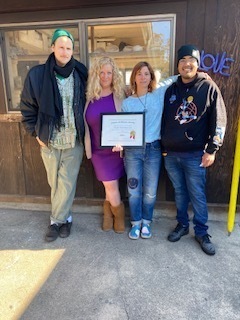 Our very own Nuria Lee, lead Art Shop teacher, accepted the award on behalf of our district, at the awards ceremony that took place this weekend in Long Beach, California. Nuria enthused,
"It is an honor to provide exemplary art instruction to our students and be a model for high quality arts education. This is all possible thanks to the critical support from staff, administration, our board, parents and community members that value and hold up the arts as an essential part of students' education in our school district"
Our wonderful Art Shop teachers, Nuria Lee, Janis Yerington, Charlie Lopez-Alvarado, and Oliver Whitcroft wholeheartedly agree, "We are very grateful and proud to be part of the Art Shop program and we will continue supporting children to be creative and find their own voices through art making."
Please join me in recognizing the hard work and dedication of our staff, parents, board members and community members for their strong support of the arts at our school!
Warmly,
Michelle