The Bolinas-Stinson Beach School Foundation was created in 1997 by parents and community members in the effort to help raise money for special programs and projects. Our purpose is to provide funding for curriculum enrichment to the children of the Bolinas-Stinson School in the areas of art, drama, literature, math, music, physical education, science and technology.
The BSBS Foundation has provided funds for an array of wonderful programs, projects and field trips including:
A Lending Library (Kindergarten & 1st grade)

Home Work Club for 3rd -8th grades

Alphabetical Quilt Project (Kindergarten)

Art Shops & Special Art Project Support, such as Raku Firing

All School Assemblies - Jazz, Opera, Dance, etc.

Homework Club for 3rd-8th grades

Trips to the San Francisco Symphony

Outdoor Learning Lab & Edible Garden

Library Book Faire Scholarships

Ballroom Dance for Middle School Students

Wild Care Field Trip for 1st & 2nd grades

Parenting Education Series

Preschool After Care Program

The After School Program for All Grades including: Spanish Language, Organic Cooking & Baking, Open Water Skills, Performing Theater Arts, Chess, Bike Maintenance, Visual Arts including ceramics and mixed media

Extended Field Trips to; Eastern Sierras, Yosemite, Walker Creek, Monterey Bay Aquarium, Nevada City / Gold Country, Oregon Shakespeare Festival, the Utah Basin
Community building events: Annual Harvest Moon Square Dance and Spring "50's Sock Hop Dance" School Spirit: School Swag: T-shirts, Towels, Totes & Hats, Also Providing food & beverage for the school community on our Annual Track & Field Day
Students thrive in these nature made classrooms. A reverance and sense of awe for the workings of nature, as well as a fascination for how it all happens hold students in rapt attention during the incredible trips the BSBS Foundation supports.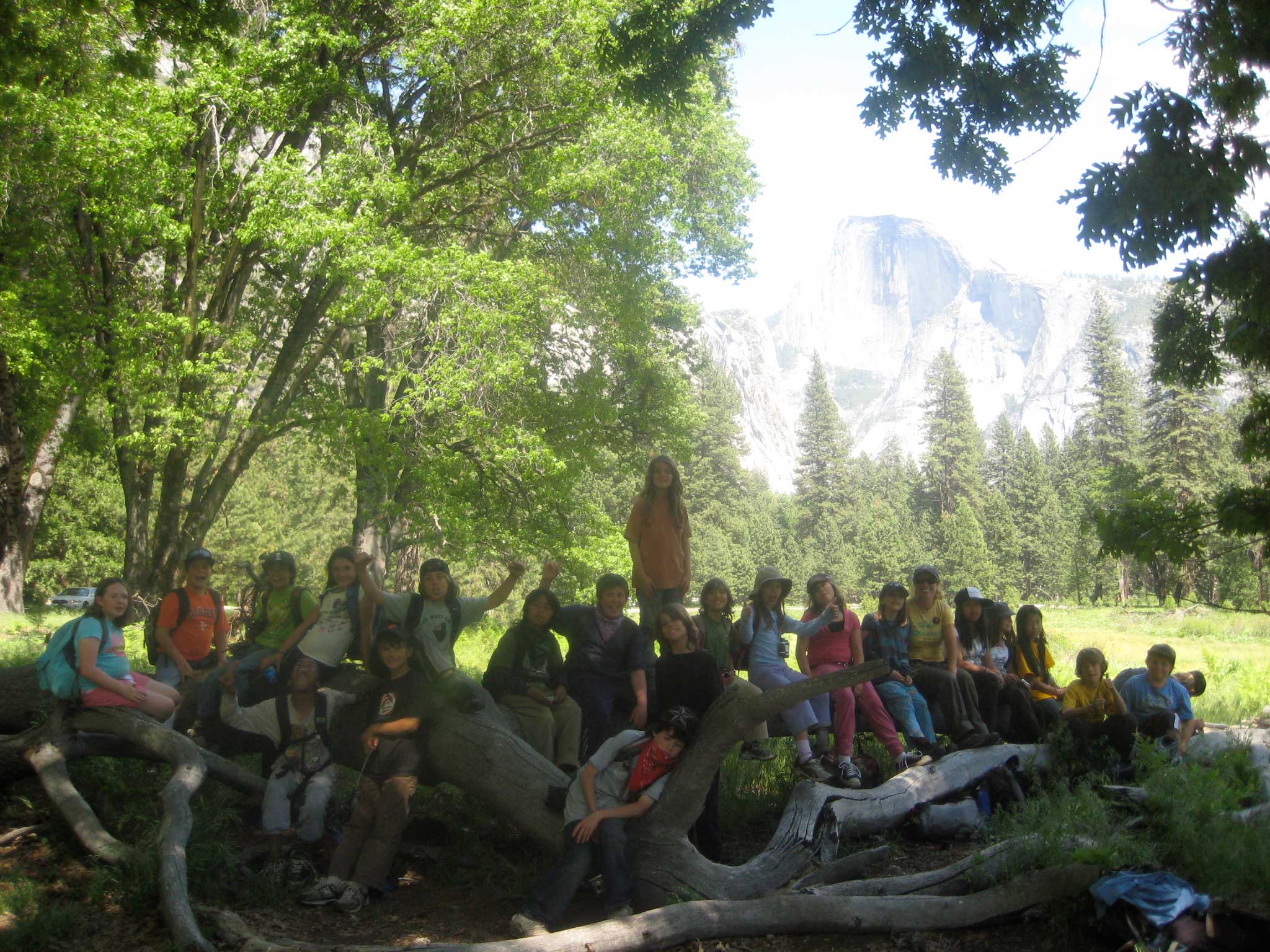 3rd & 4th grade students learn about the ecology of Yosemite with teacher Kelly Wengronowitz.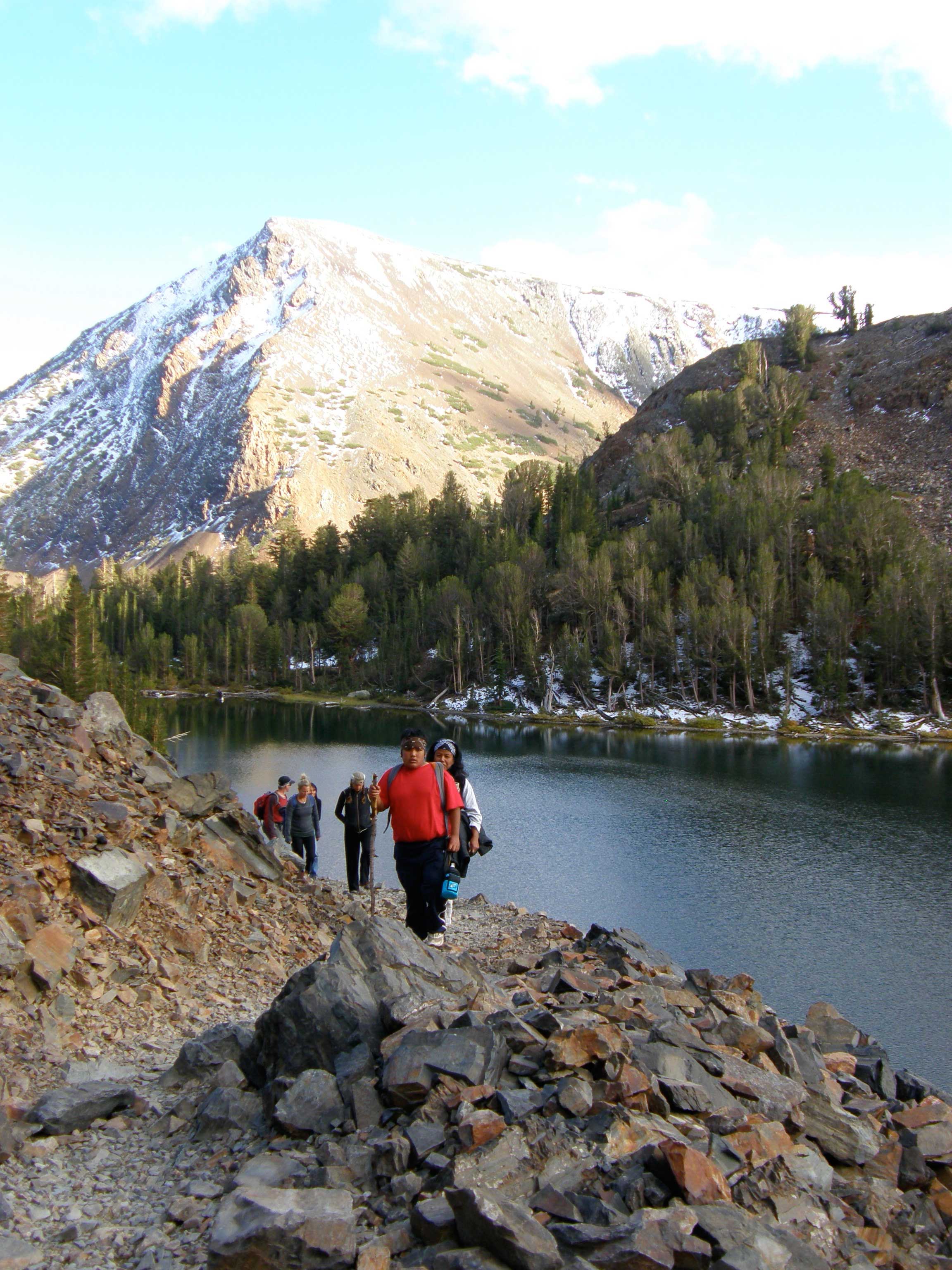 Embarking for a hike into the Hoover Wilderness during the 6th grade field trip to the Sierras.
Teacher Don Jolley guides his students as they learn about the biological, geological and human stories of the Sierras on a three day camping trip.
Witnessing first hand the geology of Sierras eastern slope basilith and seeing the effects of the volcanic activity and glacial scraping that created each cirque and moraine, the students documented their trip with journaling and sketching.
At Mono Lake they were introduced to one of the most simple - and therefore most fragile - ecosystems. Learning about the unique ecology and biology of they were - literally - immersed in it, up to their necks in the salty brine shrimp of the lake. Did you know that 60% - 90% california's sea gulls nest in the desert basin, specifically at Mono Lake and Salt Lake? They learned what happened to the lake after Los Angeles bought the water rights and how those actions impacted the food chain.
In the ghost gold rush town of Bodie, students discovered the impact of a boom and bust economy around a single resource. They learned how we humans are unique in our ability to modify our environment. They were left to ponder the words of John Muir :
"Whoever gains the blessings of one mountain day is rich forever."
By 7th Grade students are ready for the challenge of the 10-day, 3,000 mile journey of the Utah field trip. In the breathtaking beauty of Buffalo Canyon and the San Rafael Swell, students experience the unique opportunity to observe petroglyphs and pictographs by prehistoric natives of the area, and rock formations through the ages of time. Led by inspirational teacher Don Jolley, the group travels each day to new sites across basin and range, discovering awe-inspiring paleontological evidence and taking notes and making drawings. Each evening students learn to pitch camp in spectacular and remote spots away from familiar comforts. Everyone returns home fulfilled, expanded and inspired.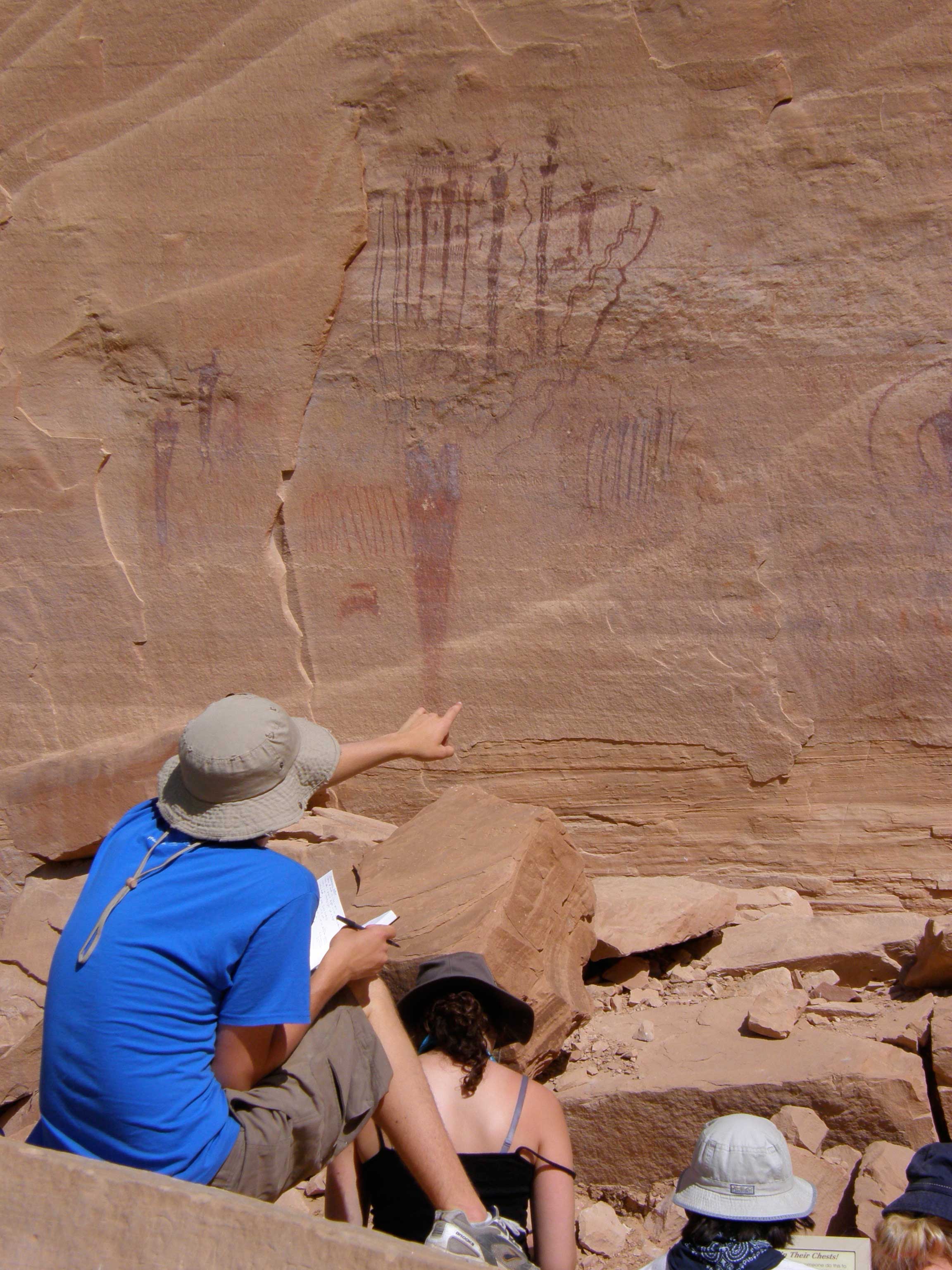 Pictographs from the Fremont Culture. San Rafael Swell, Utah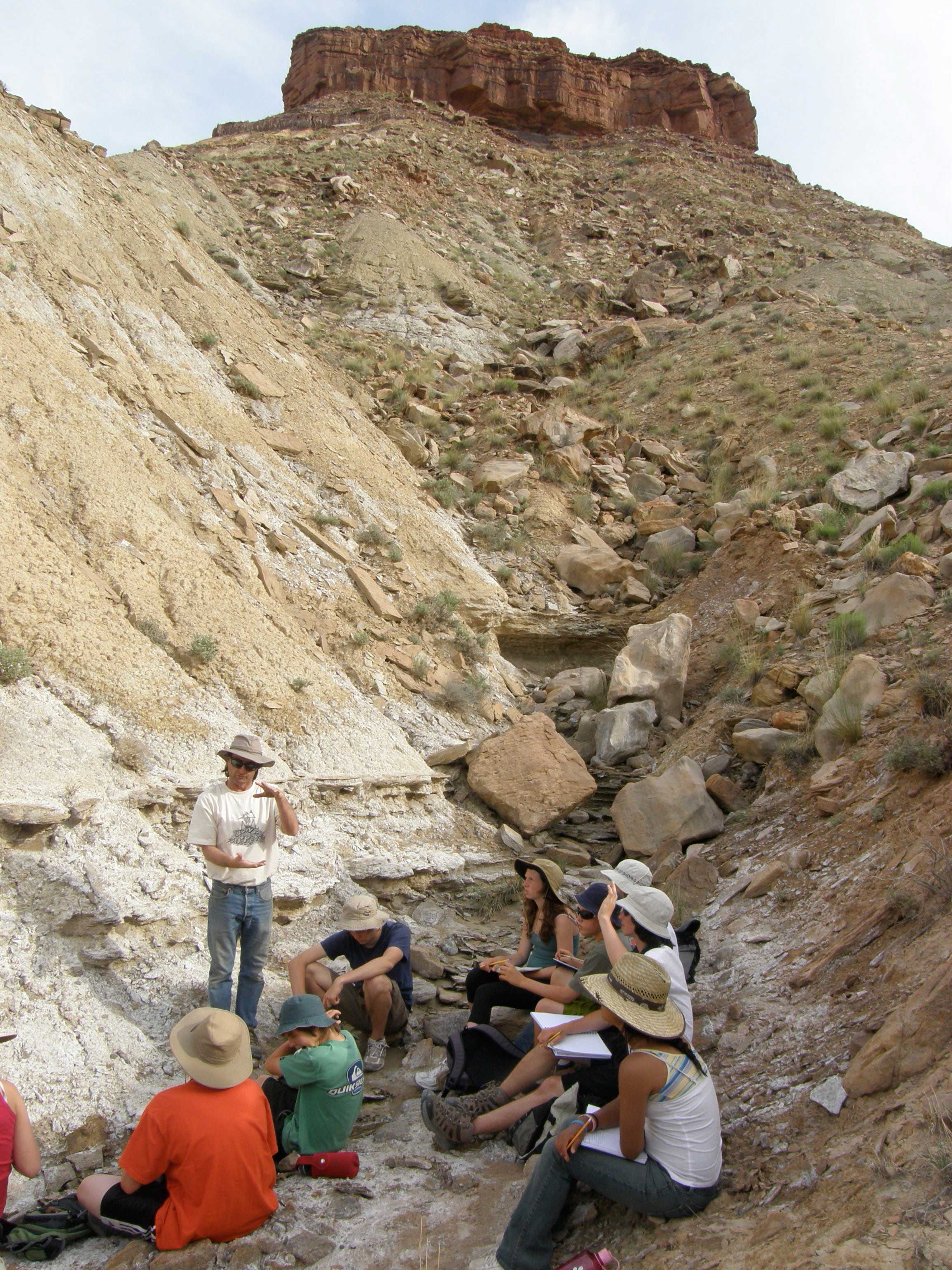 Students investigate geologic strata of the Mesozoic Era. San Rafael Swell, Utah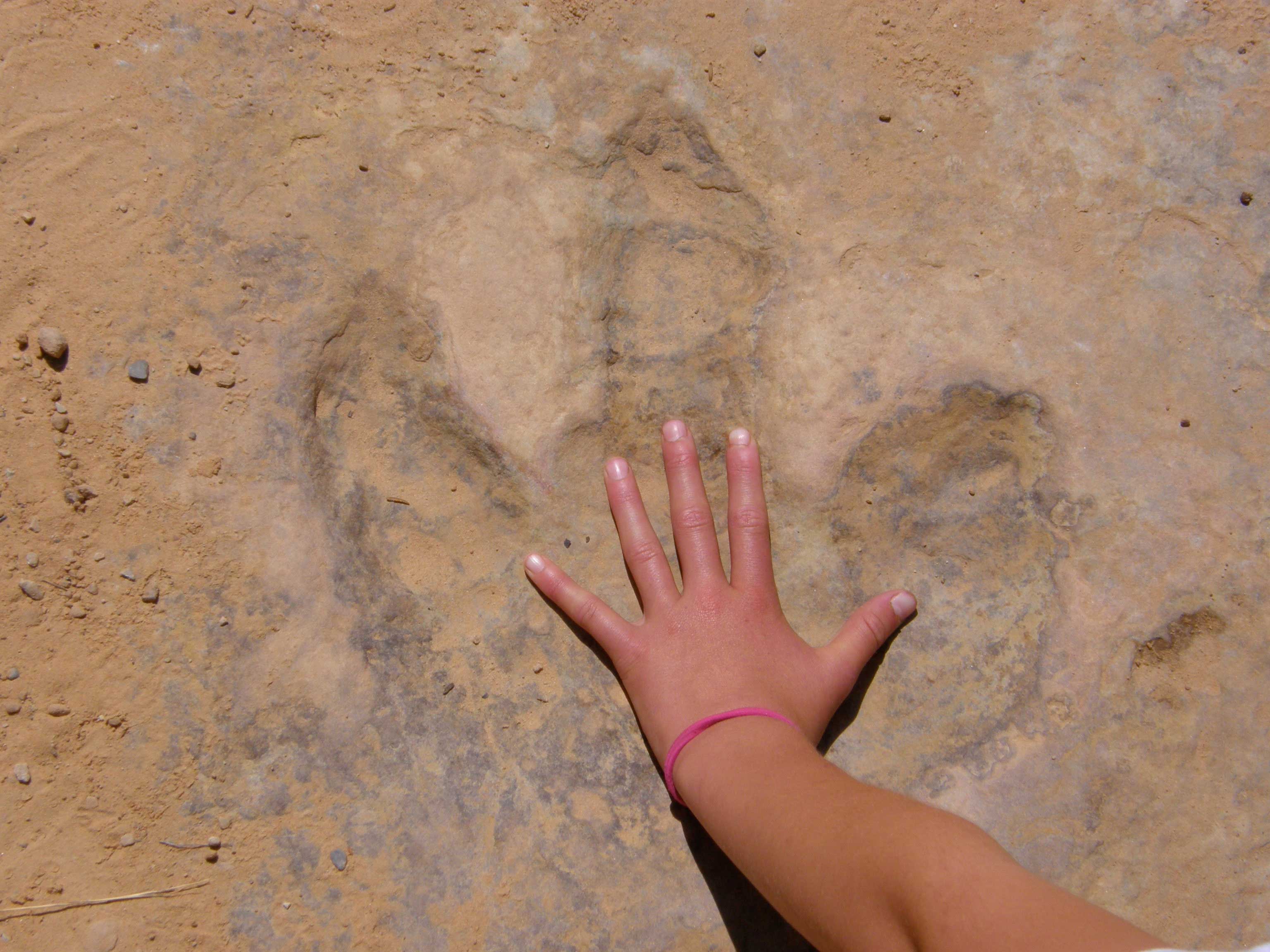 Dinosaur footprint in the Navajo Sandstone, San Rafael Swell, Utah